In this edition of Top Charts, Shantel Aris discusses the effects of the COVID-19 pandemic on the Canadian workforce and the potential knock-on effects for pension plans.
Question:
What is the impact of the COVID-19 pandemic on the prevalence of disability in the workplace?
Answer:
A recent article is predicting increased workers with disabilities stemming from the effects of long-COVID.
The article, which utilized Statistics Canada data, estimates there are around 600,000 working-age Canadians with any long-COVID symptom including around 500,000 with chronic fatigue. Given that these estimates were prepared before the Omicron fifth wave, they likely underestimate the magnitude of working-age Canadians who could develop disabilities. We note that epidemiologist experts often qualify the Omicron wave as having less severe impacts.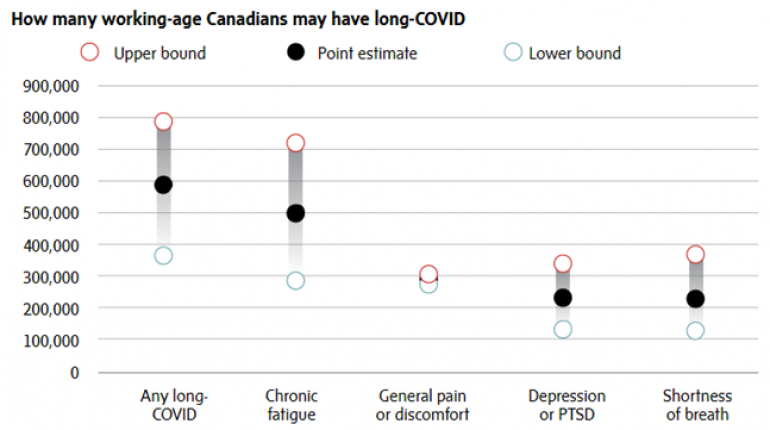 Source: Jennifer Robson, Associate Professor of Political Management, Carleton University. Calculations using Statistics Canada data.
The article estimates between 25% to 50% of the working-age adults who have been infected by COVID-19 could have or will develop post-COVID symptoms that may limit their health or activity, whether for a few months or maybe even permanently.
Total cases of COVID-19 are not known exactly for various reasons such as restricted access to testing in some provinces and asymptomatic cases. However, we know as of March 18, 2022, the Government of Canada reported 2,104,987 Canadians aged 20 to 59 have contracted the COVID-19 virus, of which there have been 9,135 ICU admissions, 46,996 hospitalizations (not including ICU), and 2,604 deaths.
These findings highlight potential implications for the employers, pension plans and insurers providing disability benefits. Employers and insurance providers may see greater demand to provide adequate disability coverage for employees who are unable to continue work after being infected with COVID-19 and may incur increased related costs. There is also the potential effect of higher mortality facing pension plans due to more instances of long-term disability. Club Vita's research shows the period life expectancy at age 65 for a disabled pensioner is lower by at least four years for males and females compared to a normal health pensioner, we will need to monitor emerging experience to see whether this is true for those affected by long-COVID.
Even without the multiple impacts of long-COVID, the short-term effects have been considerable for employers. The average hospital stays across all ages in Quebec is 15 days, extending to 22 days for those also admitted to the intensive care unit. This highlights that the short-term disability costs for an employer could be significant, accounting both for employees' hospital stay and recovery time at home.
Key takeaways
Up to December 2021, around 600,000 working-age Canadians were estimated to have been affected by long-COVD.
This is almost 2.5% of all working-age Canadians.
This could have a significant effect on the Canadian labor force, affecting working practices, productivity and may result in an increase in employees seeking short or long-term disability benefits.
Key questions are:
How will the employers respond to the challenges faced by working-age adults with disabilities due to the pandemic?
What are the economic effects of having greater workforce displacement due to long-COVID?
What do you think?
Shantel Aris
Shantel joined Club Vita in January 2021 to focus on supporting Club Vita's Canadian and international research initiatives through modelling and experience analysis work. In Shantel's previous role, she spearheaded longevity data analytics, experience analysis, predictive modelling, and industry research at RBCI Insurance to support the pricing of annuity reinsurance contracts.