In this regular column, Club Vita's longevity experts will help you visualize the often abstract world of longevity risk by introducing some of their favorite charts.
Question: How do the numbers of COVID-19 deaths compare to other leading causes of death in the UK, US and Canada?
Answer: The number of recorded COVID-19 deaths at October 26, 2020 is already higher than the number of deaths from most other leading causes. Compared to the latest available data, there were only two causes more deadly in the US (in 2017), five in Canada (in 2018) and three in the UK (in 2018).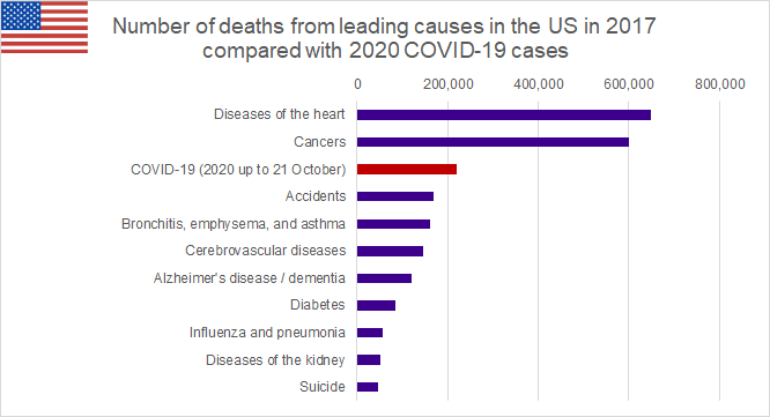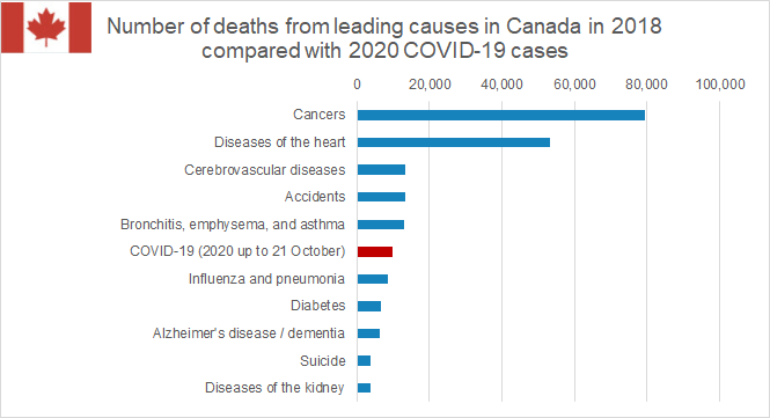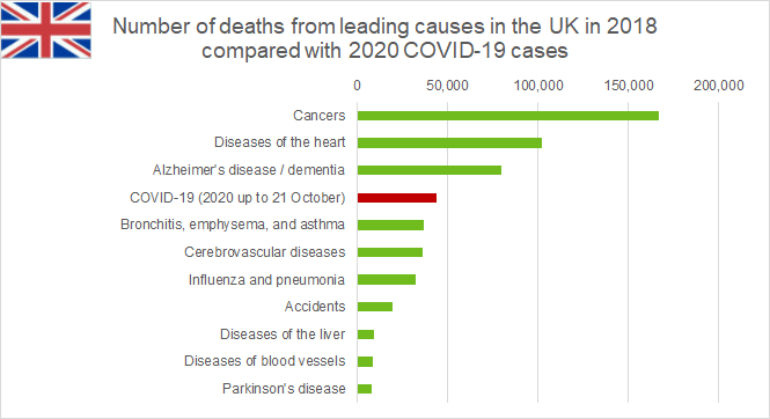 The aim of this comparison is to put the number of deaths recorded as due to COVID-19 this year into perspective. Full 2020 cause of death data will ultimately look different, with numbers of deaths due to other causes increasing due to aging populations and potentially knock-on effects due to the pandemic (mitigated by the fact that some people dying from COVID-19 may otherwise have died from a different cause) and numbers of COVID-19 deaths increasing with the experience from the final two months of the year.
Given that there were no COVID-19 deaths before this year in the US, UK or Canada, in living memory this is an unparalleled rapid increase in a single cause of death. It is even more striking by the fact that the majority of causes of death in the charts above cover a number of different conditions (for example, 'Cancers' covers all types of malignant neoplasms and 'Diseases of the Heart' covers a wider range of conditions including rheumatic, hypertensive, ischemic and pulmonary heart diseases).
It is also important to note that the numbers in the chart only cover the deaths actually recorded as COVID-related in each country. As we have explored in previous articles (see the following for the US, UK and Canada), the actual increase in deaths this year due to the pandemic has actually been significantly higher than implied by the official COVID statistics.
The key questions are
How long will this high mortality due COVID-19 continue?
How many COVID-19 deaths has each country missed this year?
How will the knock-on effects from the pandemic, such as missed cancer screenings or increased strain on medical services, affect the other leading causes of death?
What will be the longer-term impact on the health of the population from the COVID-19 pandemic?
How should we allow for this new cause of significant mortality in future longevity models?
What do you think?
Sources:
Cause of death data: UK – Office of National Statistics, National Records of Scotland and Northern Ireland Statistics and Research Agency US – Centers for Disease Control and Prevention, Canada – Statistics Canada. COVID deaths: World Health Organization
Full descriptions of causes of death included in the charts with ICD10 codings are as follows:
Cancers (malignant neoplasms) [C00-C97]
Diabetes (diabetes mellitus) [E10-E14]
Parkinson's disease (and other extrapyramidal and movement disorders) [G20-G26]
Alzheimer's disease [G30] (US and Canada); Alzheimer's disease / dementia [G30] + [F01] + [F03] (UK)
Diseases of the heart [I00-I09, I11, I13, I20-I51]
Cerebrovascular diseases [I60-I69]
Diseases of the blood vessels (arteries, arterioles and capillaries) [I70-I79]
Influenza and pneumonia [J09-J18]
Bronchitis, emphysema, and asthma (chronic lower respiratory diseases) [J40-J47]
Diseases of the liver [K70, K73-K74] ([K70-K77] for UK)
Diseases of the kidney (Nephritis, nephrotic syndrome and nephrosis) [N00-N07, N17-N19, N25-N27]
Accidents (unintentional injuries) [V01-X59, Y85-Y86]