I can still remember the time when "floppy disks" with maximum capacity of 2.8 mega bites (MB) were popular: a term that some of you probably haven't even heard of!
Back in the 1970's, storage devices were not as advanced as they are today, and people relied on simple storage devices with limited capacity. Those times are now in the history books and as more data becomes available, more advanced storage devices (e.g., compact disks, DVDs, USB drives) have been introduced. Currently flash drives are available with 4TB capacity i.e., 4x106 MB.
My prediction is that developments in data storage, data interrogation and data access will have wide and far reaching implications, from driving innovation in longevity risk transfer to increasing life expectancy itself.
Big data growth
The Cambridge dictionary defines "big data" as: "very large sets of data that are produced by people using the internet, and that can only be stored, understood, and used with the help of special tools and methods". In other words, the data set is so massive and complex that traditional data management systems cannot be used to store or analyze it.

The following chart clearly demonstrates three main components of big data commonly referred as 3 V's, Volume, Velocity and Variety.
As indicated by (Berisha and Endrit 2021), big data has been growing extremely fast within the past few years.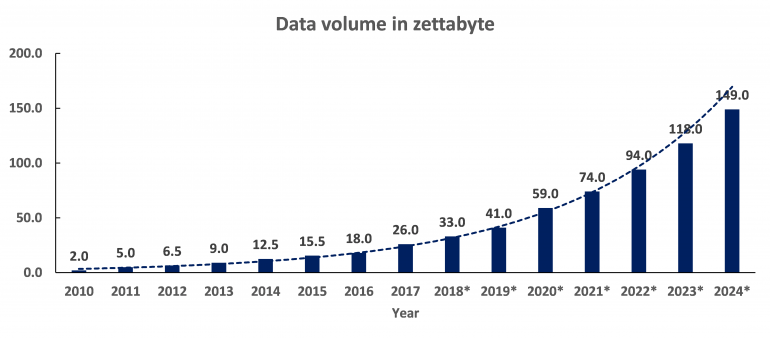 Source: (Berisha and Endrit 2021)
The chart above shows volume of data/information (in zettabyte1) created, captured, copied, and consumed worldwide from 2010 to 2017 and then forecasted from 2018-2024 on an exponential basis.

Initial pattern recognition methods like regression analysis can be dated back to 1800. Advances in computer science in recent years with the developments in machine learning algorithms and artificial intelligence together with the growth in big data has significantly enhanced our ability to gain valuable insights from data. This can be inevitably considered as one of the main indirect impacts of big data growth.
While the growth in big data use is undeniable, big data opportunities per industry can reveal a different pattern. The following heat map from (Kart 2012) shows big data opportunity per industry and by 3 V's. Banking & securities, communications, media, and services together with government and manufacturing were among the top industries to benefit from big data. Healthcare providers and the insurance industry on the other hand exhibited relatively moderate potentials for big data.
Big data opportunity heat map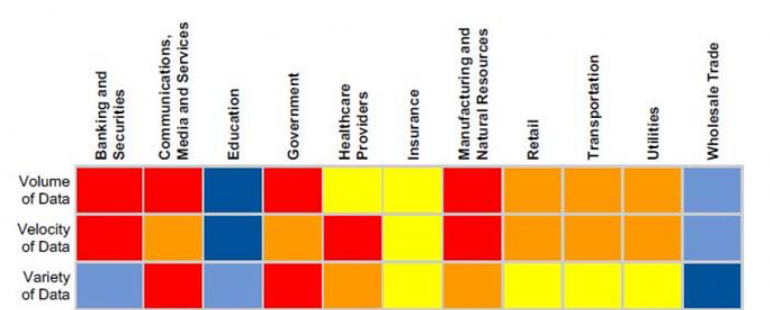 Source: Kart, L. 2012. Market Trends: Big Data Opportunities in Vertical Industries. Gartner
Open Banking
The beginning of the big data revolution has come in the guise of open banking, a practice of granting certain types of access to customers' personal and financial data to third-party financial service providers through open application programming interfaces (API) [subject to appropriate customer consent].
Open banking started in October 2015 when the European Parliament adopted a revised Payment Services Directive, known as PSD2. In August 2016, the United Kingdom Competition and Markets Authority required the nine biggest UK banks – HSBC, Barclays, RBS, Santander, Bank of Ireland, Allied Irish Bank, Danske Bank, Lloyds and Nationwide to grant licensed startups access to their customers' data. These regulations came into effect in January 13, 2018. Open banking has been spreading ever since across Europe and globally as highlighted by (Corcoran 2020) and shown in the following map: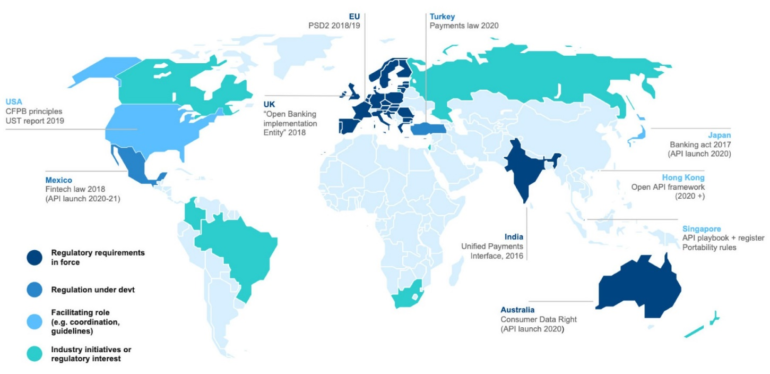 Source: https://www.bbva.com/en/open-banking-regulation-around-the-world/

It is believed that open banking will facilitate great innovation in financial technology and both customers and financial institutions can already benefit from open banking regulations from:
Account aggregation: A customer's financial data from multiple accounts can be aggregated by personal financial apps where expenditure data can be cleaned, classified, and analysed.
Credit risk checking: Customers credit history can be quickly reviewed by banks, for example, during a mortgage pre-approval process. In addition, more informed decisions can be made by financial institutions when estimating their credit risk.
Opening bank accounts: By sharing customers personal data, banks can quickly and more accurately open accounts, issue credit cards etc.
Open Insurance
Following in the footsteps of open banking, is open insurance. The European Insurance and Occupational Pensions Authority defines open insurance as "accessing and sharing insurance-related personal and non-personal data usually via API". Open insurance could then be viewed from three following linked angles: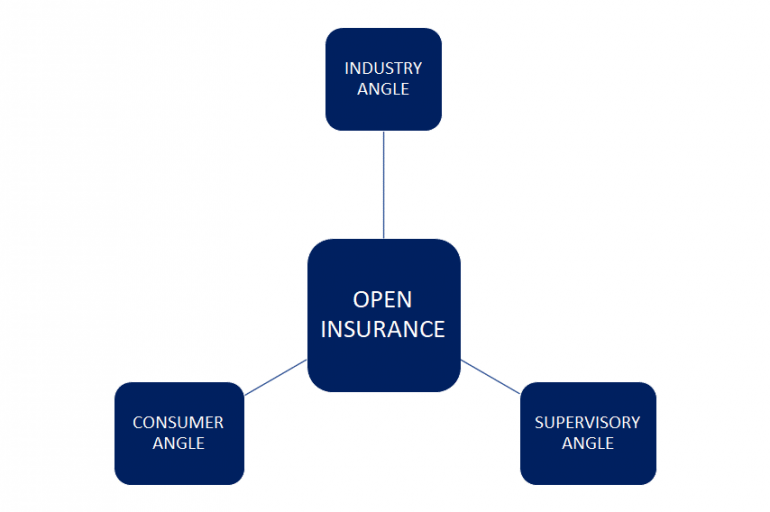 Industry angle: Insurance data can be widely combined and exchanged via API's by partnering insurance companies.
Consumer angle: Insurance related consumer data such as benefits, claims or coverage can be shared between insurers.
Supervisory angle: Regulators can access insurance service related data on a real time basis to enhance their oversight capabilities.
Greater access to data in the insurance industry could help drive innovative new product lines, improve distribution channels and improve risk management practices. It could even help open up a liquid secondary market for longevity linked policies and move us closer to a situation where longevity risk is fully tradeable.
There is still some way to go for open insurance. Although insurance API usage has been increasing over the last decade, it is still lagging the banking and financial sector as highlighted by (Gasc 2020) in this blog.
Open Health
What comes after open banking and open insurance? Open health! As of July 1, 2021, the Center for Medicare & Medicaid Services started to implement requirements for certain payers to support patient access and provider directory APIs. This can be considered as a major break though since enforcing new requirements means faster processing time particularly when compared to the older Electronic Data Interchange protocol that was developed in 1970's. Implementing data privacy and data security features and being compliant with Health Insurance Portability and Accountability Act of 1996 (also known as HIPAA) are important parts of the new API integration.
If the health industry can follow the banking industry in tapping into the power of big data, it could have big implications for the health of average people. Data driven accessible technology innovations that encourage people to live healthier lives could ultimately increase both lifespans and healthy lifespans.
Nowadays, banking & securities have already moved toward big data and API usage in their day to day decision making. Healthcare systems and Insurance companies are increasingly applying predictive modelling and big data analytics to improve their performance and more accurately estimate risks. It is not unrealistic to see in the near future both open insurance and open health be fully engaged with big data as insurance and health data are being widely shared. This may ultimately enable tech companies to develop innovations to improve people's health and cause people to live longer.
References
Berisha, Blend, and M ̈ezi Endrit. 2021. Big Data Analytics in Cloud Computing: An overview
Corcoran, Edward. 2020. 11 05. Open Banking Regulation Around the World - Accessed 08 09, 2021
Gasc, Jean-François. 2020. "Open insurance success hinges on the right APIs." accenture. 20 04. Accessed 08 10, 2021
Kart, L. 2012. Market Trends: Big Data Opportunities in Vertical Industries. Gartner.
1One zettabyte is equal to 1x1015 MB