In this regular column, Club Vita's longevity experts will help you visualize the often abstract world of longevity risk by introducing some of their favorite charts.
Question: What are the key metrics for predicting spikes in COVID-19 related mortality?
Answer: Two key statistics we have available to predict upcoming spikes in mortality due to COVID-19 are the numbers of people testing positive for COVID-19 and the number of people being hospitalized due to COVID-19. Neither is a perfect measure, for example case numbers can increase with an increased amount of testing, and deaths due to hospitalizations will reduce with the age profile of those hospitalized. Never-the-less, monitoring these statistics can give early warning signs with which to base public health policy and help with workforce planning.
In the following chart, the green line represents new confirmed COVID-19 cases per week over time, the blue line shows COVID-19 related hospitalizations and the purple line shows COVID-19 related deaths (all showing rates per 100,000 people).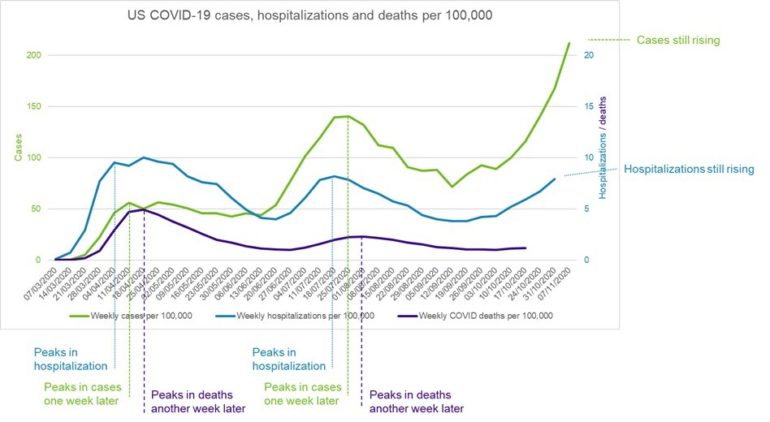 Source: Hospitalizations - COVID-NET https://gis.cdc.gov/grasp/COVIDNet/COVID19_3.html: population-based surveillance data for laboratory-confirmed COVID-19-associated hospitalizations in nearly 100 counties in the Emerging Infections Program (EIP) states (CA, CO, CT, GA, MD, MN, NM, NY, OR, TN) and Influenza Hospitalization Surveillance Projects (IHSP) states (IA, MI, OH, UT). Cases – CDC Case Surveillance https://data.cdc.gov/Case-Surveillance/United-States-COVID-19-Cases-and-Deaths-by-State-o/9mfq-cb36; Deaths – CDC Weekly Counts of Death by State https://data.cdc.gov/NCHS/Weekly-Counts-of-Deaths-by-State-and-Select-Causes/muzy-jte6.
​Key takeaways
In general, we see a peak in hospitalizations, followed one week later by a peak in cases and then a further week later by a peak in deaths.
The increase between the peaks in cases in April and July is due largely to the increase in testing.
The peak in hospitalizations in July resulted in fewer deaths than the peak in April largely due to a younger age profile of those hospitalized.
It is concerning that both cases and hospitalizations are increasing sharply as we come into the winter months.
What do you think? Please post your questions in our Friends of Club Vita discussion group on LinkedIn.